Wed 27 Aug 2014 by Amy_Rogers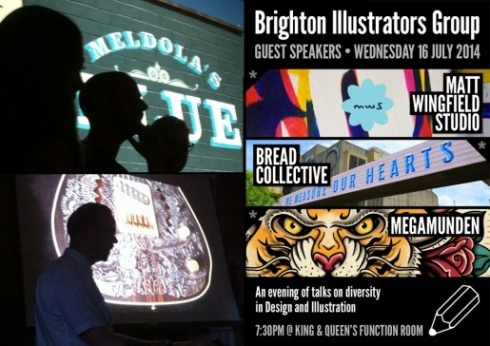 The latest BIG event was organised by Matt C Stokes and Peter Greenwood.
Matt has kindly written a blog about the event too. Check it out:
'As a member of Brighton Illustrators Group, I was recently asked to help organise an evening of talks on design & illustration. I decided to approach practising designers & illustrators who appear to have diversified as their careers have progressed.
First to speak was Matt Wingfield of Matt Wingfield Studio, renowned for its applied image-making and screen printing. As well as running his own studio, Matt has also been a lecturer at Camberwell and University of Brighton. He showed us his inspirations, work he'd created for the publishing sector, T-shirt designs, typefaces, and identities. Matt also explained how he got new work, and how his enthusiasm had secured a lot of returning clients. There was also a foray into product design: cardboard coffee tables and paper mannequins that received a lot of press coverage. A large body of his presentation consisted of concepts and finished store windows he'd made for stores including Ted Baker, Diesel & Topshop. Pushing the boundaries of what he could get away with, his treatments included pouring oil down the store window glass - "bitumen never dries" - and wrapping whole Carnaby Street premises in PVC.
His love for the process and ideas generation really shone through, as well as how he created new markets and opportunities, so as he had more to offer prospective clients. Matt ended his talk with a list of dream projects he'd like to work on in the future, including tube stations, television and NYC, before answering questions from the audience.
See more here: http://mattwingfieldstudio.com
____
Next to speak was Ollie Munden AKA MEGAMUNDEN. He's Lead Designer at I Love Dust (http://ilovedust.com), and also a freelancer working under his own name. He started by outlining a couple of projects from his role at ILoveDust, but concentrated on his personal work, explaining how he had gotten into painting murals and designing tattoos. Some of the slides included a motorbike he'd hand-painted, and a laser engraved guitar he'd collaborated on. MEGAMUNDEN showed us a series of promotional videos of selected projects, and emphasised how important it was to document everything, so as he could showcase it for new clients. One such video showed Ollie and a colleague painting a mural across and around a car, in one day, on display in front of crowds of people!
Other projects included the Tattoo Colouring Book he created for Laurence King publishing, further cementing his love of tattoo art. He also showed us a short promotional film for his solo show in Brighton, and some of the pieces he created especially for it. He spoke of his love of product design, and how he worked with local artists to collaborate on items like leather wallets and handkerchiefs.
See more here: http://www.megamunden.com
____
After the break it was the turn of Luke, Tori and Owen of Bread Collective. They'd braved the train down from East London to talk to us about their work, and what its like to work as a collective. They started by showing us one of their first big projects: "The Walls Have Ears" was a long mural in Hackney Wick, comprising of hand-painted typography reflecting the local community. The piece was commissioned for the London 2012 Olympics, as part of the gentrification of the area. They also played a video of their process. As a result of this project they secured other mural work, including a walkway in the Southbank Centre, and a Pop Up store in Piccadilly.
As well as the murals, they presented websites and identities they'd created in the meantime, and a short video that accompanied their collaboration on a shoe with Lacoste. They finished by showing us their most recent project: a series of murals and the identity for the Battersea Power Station's pop up cinema, and they told us that they enjoyed working "in at the deep end". Their talk finished with a discussion about their love of painting condensed sans serif type, and whether it would be as good if it were created in vinyl…
See more here: http://www.breadcollective.co.uk
____
Thanks very much to everyone who spoke, and to those that helped organise the event. Hopefully there'll be more Brighton Illustrators Group events very soon!'
Share:

Blog archive
2019
2018
2017
2016
2015
2014
2013
2012
2011
2010
2009