Thu 09 Jun 2011 by Angela_McKay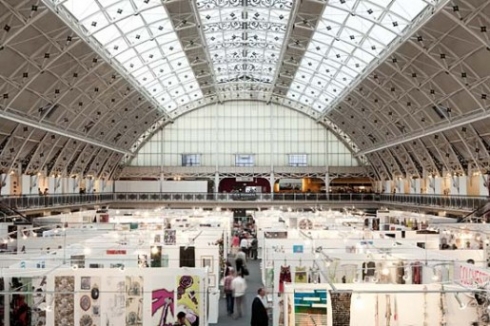 Monograph
June issue of Creative Review is here and we are silly excited that the editorial team asked us to feature in Monograph (their subscribers only insert of greatness)

With an introduction by our very own Benjamin Cox - Monograph looks at the world of illustration spanning almost thirty years. There are sixteen superb illustration examples that begin with Paul Slater in 1983 and end with Andrew Bannecker in 2010.
The Flower Show
The award winning Kai & Sunny present their new exhibition The Flower Show at Stolen Space gallery. It follows their previous sell-out solo shows - What A Wonderful World and Return To The Wild.
The exhibition features a series of monotone works highlighted in glittering silver which explore the word 'flower' including large scale, silkscreened prints.
As part of he exhibition, the duo are releasing an A3 limited edition box set containing five letter-pressed images from the show. This set includes a new short story written exclusively for these images entitled 'The Gardener' by Booker Prize nominated author of Cloud Atlas - David Mitchell.
The Flower Show is on until 26th June and to listen to Chris Moran reading the story over images from the exhibition, visit the Guardian website here!
New Audi Ad Revealed
'A day in the life of an Audi driver' ad has been revealed. Created by BBH, featuring illustrations by our very own Tim Marrs, the short highlights team work and stamina - two of the key components of winning Le Mans.
Check out the ad here and read the full story on Tim's blog.
Happy Birthday CHI & Partners!
CHI & Partners are celebrating their 10th Birthday! You can join the virtual party by sending them a tweet on #chiare10 and checking their interactive party page illustrated by Simon Spilsbury. Here's a snap of his 7 hour mural work celebrating the agency's clients and achievements - past and present.
Richard Branson's Submarine
Jonas Bergstrand was commissioned by Project magazine to illustrate an article on Richard Branson's new submarine that plans to go deeper than anything before. He created 'a life under the sea' in layers depicting a submarine that moves around the page at the touch of a finger unveiling different depths. Super charming and rather funny too... only available on the iPad but here are some stills from the multi layered illustration.
Lovely Ribbon Animation
Check out this little personal project by Jitesh Patel and Alex Hammond. A little bit of pretty fun… watch it here!
New Designers
We are proud to extend our support to new creatives by teaming up with New Designers - one of the UK's most important graduate design exhibitions. Highlighting some of the brightest and most creative talents from Britain's leading illustration, animation, graphics, fashion, furniture and architecture courses. CIA can offer our friends a handsome discount on ticket sales - by entering 'ND141' you can get hold of tickets for £8.50 before June 24th.
Part 1: 29 June - 2 July 2011 (Awards Preview 29 June)
Part 2: 6 - 9 July 2011 (Awards Preview 6 July)
Check out our new website.
Our debut book License To Inspire is now available through the CIA Shop, Magma, Tate Modern, Royal Academy Shop & Waterstones.
You can get your daily dose of inspiration on the CIA blog.
Follow us on Twitter.
Like us on Facebook.
Visit our YouTube channel.
More soon,

CIA
Share:
Blog archive
2019
2018
2017
2016
2015
2014
2013
2012
2011
2010
2009