Mon 18 Mar 2013 by Amy_Rogers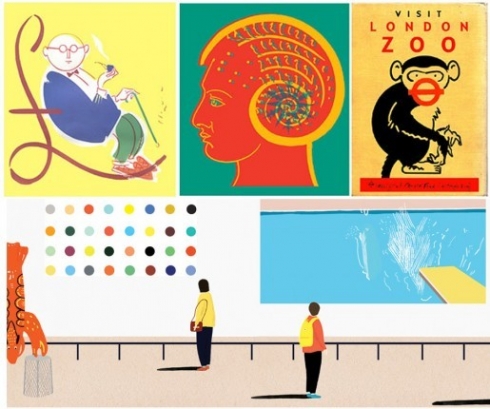 This months BIG meeting was held in conjunction with Design Brighton's Illustration event. The Old Market's bar was full of intrepid designers and artists despite carnage on the streets caused by snow. A 'Fargo of a night' is how the evening's chair, Alex Leith described it. Alex is the editor of Viva Brighton and Viva Lewes. These free magazines provide excellent coverage of the local zeitgeist. Alex commissions different artists to create a cover each month, illustrator Brian Grimwood being one of them. Brian was one of the nights key speakers, the other was illustrator Rose Blake.
Rose has already achieved much since graduating from the Communication Design MA course at Royal College of Art in 2011. Interested in conveying different moods, feelings and memories, she likes to make personal work that 'doesn't shout about it'. Much of her art is inspired by the way music can 'change a situation'. Many of Rose's illustrations feature people looking at art - perhaps unsurprising for a gallery-loving artist whose father is Peter Blake!
Two or three characters constantly recur in Rose's work, two of them look like a couple of her friends and one of them looks like her. Using a limited colour palette, Rose enjoys simplifying things until they are as bold and graphic as possible.
While studying at Kingston University, Rose learnt a lot through creating a series of experimental books and quirky collages. She was commissioned by Nobrow Press to create a screen-printed book, something she found much more complicated than creating individual prints. The process helped her evolve as an artist.
Whilst at RCA, Rose won a prize of £500 from Vauxhall to use as she wished. She invested it in t-shirt production and screen-printed several, thus pleasing art lovers and making herself a decent profit. Rose continues to design and hand-print t-shirts today. Modelled by her friends they are available to buy from her website. One of The Inbetweeners was pictured wearing a Rose Blake t-shirt in a national newspaper -result! Rose has now illustrated t-shirts for ASOS, and musician Robyn Hitchcock.
Rose received a commission from the BBC whilst at RCA. She was very pleased with her £200 fee, only to receive a remittance form for £3,000 a while later! She hadn't realised she would be paid £200 every time the BBC used her work in a different way.
Upon graduating Rose struggled initially. She wasn't yet au-fait with the business side of her profession and made lots of artwork for free. Setting herself the deadline of December to make her career viable, Rose was very relieved when things started happening in November. She now has an impressive array of clients.
One of Rose's most enjoyable jobs was decorating an ice-cream van for a charity. She brought her friends along and paid them to help her out over the course of a week.
Rose finds that her roughs generally turn out better than her 'finished' artwork. This can work in your favour when you have extremely tight deadlines! One of Rose's first jobs was for the New York Times. She had between five and ten pm to complete the brief. She took about one and a half hours to create some roughs and two hours for the final image. She says NYT have a great art director who was very open to her ideas.
Rose's 'bread and butter work' is for business magazines. Some of them initially asked her to create artwork in the style of other artists they liked. She considered creating rip-off work under the pseudonym 'Darren Garden' but ultimately stuck to her own style.
Rose shares a studio with an animator, film-makers and a graphic designer. They all spent a weekend making a film in the studio before their desks and creative paraphernalia arrived. Various handmade cardboard props were incorporated.
Rose is still involved with film work and set-up a music website which she updates alongside her illustration practice. Studio Music started at RCA when tutors told Rose illustration is no longer a viable career. They said you will most likely need a side-project or second day-job alongside it. Rose contemplated music and how it inspires people. She emailed twenty people asking them what music they listen to while working. There are now 200 or so playlists on the website, including those of Stella McCartney, Kevin Spacey, Ian Wright, Michael Gillette, Peter Blake and Rob Ryan. Rose updates the site incognito, often while sitting in bed.
Unsure as to whether having her own playlist on the website was a good idea, Rose instead created twenty pieces of artwork that reflect how she feels when listening to her twenty favourite songs.
'Art on Sunday' is a Sunday Times Magazine feature set up by an RCA friend of Rose's who is now STM's Assistant Art Editor. Every week a different illustrator creates something that encapsulates Sunday's to them Rose was the first artist to get involved.
Rose generally works on A4 paper with a 'scrappy' pen before colouring her images on the computer.
There was a short break during which we all chatted and besieged the bar. There was also a raffle, with the winners receiving signed Rose Blake prints and Brian Grimwood books.
Brian Grimwood says his job is 'to excite the eyeball'. He has been working as an illustrator for forty years and makes a conscious effort to stay enthusiastic and excited about his art. This joie de vivre is reflected in his illustrations.
Last year Brian released a fascinating book chronicling his life in the illustration industry. He designed five different covers but ended up using one of his wine label illustrations from a while ago.
Stylistically Brian doesn't believe much has changed since his childhood when his trademark was a bold, quirky line. After failing his eleven- plus Brian was sent to an art school where David Bowie was in the year above him – a brilliant reward! Brain has been in a band since 1965 and once supported Bowie. Brian didn't go to University, and has done very well by selling his 'weirdness'. A couple of years after finishing school he was already an Art Director creating publicity designs for The Kinks and The Searchers.
Brian's fortunes changed after breaking up with his girlfriend and going on the dole. With no other work on the horizon he decided to try his luck as an illustrator. He turned up at men's magazine Club International dressed like Aubrey Beardsley and the magazine published almost his entire portfolio!
'People often try and pigeon-hole you', Brain says he was often compared to others rather than considered unique. He was told he was like Aubrey Beardsley before he'd even heard of him. He mixes up cultural references to achieve a unique result: 'A bit of Indian, bit of Chinese – sounds like a meal!... As Picasso said, "Good artists copy, great artists steal"'. Brian once sought to combine the essences of L.S.Lowry and the Noddy cartoons. As a great fan of Shanghai's graphic designers he has 'nicked' a couple of their ideas too.
Brian always tries to appeal to his mum – 'if she can get it anyone can!' He likes adding hidden jokes to his images though. There are often miniature self-portraits and things that look rude when seen upside-down. Brian signs most of his images 'Brian Grim', and at Christmas it's 'Brian Plumwood'.
Brian draws to communicate ideas. He enjoys working with New Scientist as they feature such fantastic articles. In Brian's experience most Art Directors prefer you to come up with your own ideas and only make suggestions to justify their jobs - so be bold.
Advertisers made vast amounts of money in the seventies - £3,000 a week was even more of a fortune back in the day. Brian thought 'I'll have a bit of that', and drew lots of animals, as illustrative advertising was using a lot of them.
In the nineties one of his most lucrative jobs was for BBC 2. He drew some images that were animated to appear 'drawn' by a robotic '2'. The animation appeared between programmes several times a day and Brian was paid a fee every time!
One of Brian's more unusual payments was a round-the-world ticket from United Airlines, but unfortunately he had to sell it cheaply, being too busy to use it.
Brian spent many hours creating a dividing-page design for a 1980-81 Illustration annual but the rough was printed instead. This marked a turning point in his career as he realised his rough designs were popular. Up to this point everything he created took a day. Now clients were using the roughs he could create five to six illustrations a day – and he earned more money for each piece too! Brian's lively, emotive style influenced plenty of other illustrators who began loosening up their styles following his success. Print Magazine credit Brian with having 'changed the look of British illustration'.
Brian began to work at such speed he was ringing up for a courier bike before even starting a drawing. If the courier arrived before the ink dried he got a hair-dryer out.
Fans include Paul McCartney, who asked him to design his Christmas cards and George Harrison, who asked for a portrait after seeing something 'Japanesey' he'd drawn. George had recently grown a moustache, so Brian faxed sketches of every moustache style imaginable to find out what look needed to be added to the artwork.
Brian was one of a handful of artists asked to pitch for a £100,000 job illustrating The Beatles anthology. He created hundreds of pictures but narrowly missed out.
One of Brian's more unconventional commissioners once asked him to drink a bottle of gin and draw 'something'. The next month he was asked to drink a bottle of brandy and draw 'something'.
Brian is the founder of Central Illustration Agency. He fell into this quite by chance after a friend asked him for representation. He accepted and soon had about twenty calls from other illustrators clamouring to be on his 'books'. Despite never having worked as an agent before, Brian relished the challenge. His experience as a successful illustrator has taught him much about the business and equipped him with covetable contacts. CIA is now one of the best illustration agencies in the world.
Brian doesn't like reading books. He illustrated the works of Ernest Hemingway on the basis of the synopses of one of his mother's friends. Illustrating for the Folio Society was 'a gem of a job' . All their illustrations are printed on high quality paper... Brian didn't mention the stories but surely read the synopses!
Brian has 'about eight different styles' but people always recognise his work by personality in his line. Apparently, people thought Brian was high during the sixties, but it was just his natural energy. He didn't do any drugs but does have a penchant for Harvey's.
Brian says the key to successful illustration is to make whatever you do look important. Often his quickest creations work out best but he says there's a fine line between looking naive and looking badly drawn. He once created a few 'scrappy' drawings that an Art Director liked enough to use on wine bottle labels. This helped make them look 'important' enough to win a Californian award.
Brian believes you can transcend illustration to make 'high art' and if you believe in yourself enough others will take you at your own estimation.
Thanks to Alex, Rose, Brian and everyone at Design Brighton for a fantastic evening!
Share:

Blog archive
2019
2018
2017
2016
2015
2014
2013
2012
2011
2010
2009