Mon 10 Feb 2014 by Michael_Munday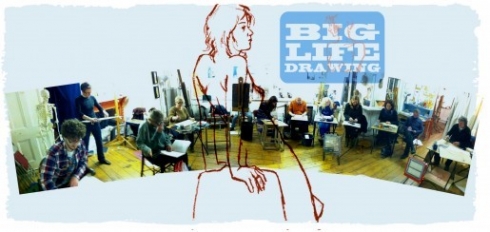 Wednesday 5 February saw the first in our monthly life drawing sessions - courtesy of Bill Donohoe and the Sussex County Arts Club. Under the room's ancient beams, our model, Lucy, threw some excellent shapes - and no pose lasted longer than 15 minutes - a challenge to the rusty (me). Twelve of us turned up on a(nother) vile night, so there was enough space for all of us (some like to move around, the daredevils). Great music - tranceyworldyjazzyfunky thanks to Bill's collection - created a really nice relaxed atmosphere. Two hours of intensive drawing with a break for tea & coffee.
Some of us painted the poses in watercolour, some in pencil, charcoal - Karen drew on her ipad - it would be great to see some of the results posted on the BIGblog.
Inevitably, a bunch of us pitched up at the pub on the corner (yes, Bill was right: the beer IS cheap!) and we all decided that the informal socialising is really important for illustrators, as well as these more structured events - this was a great way of having both.
See you next time? Wednesday 5 March.
Free for members, £3 for friends (but don't bring too many - limited space!)
Share:
Blog archive
2019
2018
2017
2016
2015
2014
2013
2012
2011
2010
2009