Wed 20 Jan 2010 by Alan (Fred)_Pipes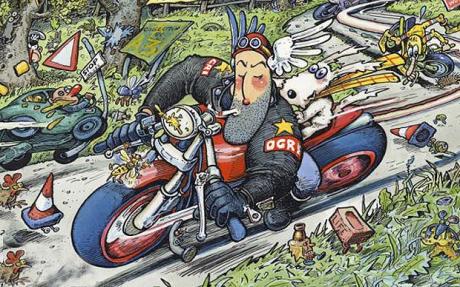 What do you do when you want to retire and still have drawers full of old artwork? Have an auction. That's what Paul Sample is doing on 27 January. He's a big hero of mine, and I own a piece of his artwork, published originally in the Sunday Times. I wrote to him back when via the newspaper and he sold it me for a fiver! It's a beautiful example of pen and ink artwork, in the R Crumb style. As well as his editorial work, you may well remember Sample's book covers for Tom Sharpe paperbacks and ads for the Post Office, all full of detail. And of course his long-running biker strip Ogri done originally for Bike magazine but now for Back Street Heroes, the custom motorcycle magazine.
The auction house, Halls of Shrewsbury, on its website quotes Paul Sample as saying that: 'All my work has been in folders tucked away in cupboards for years', said Mr Sample, 62, who has recently moved to Whitchurch after living in North Shropshire for 30 years. 'I don't look at the work, so I have decided to give someone else the pleasure.' There's also an article in the Daily Telegraph about it. I'd love to own more Paul Sample artwork - anyone going to the auction?
See the online auction catalogue here:
http://data.bidmaster.co.uk/halls/bidcat/Catalogues.asp?F1=3072&F2=4169&F4=1054&select=752&status=C
Share:

Blog archive
2019
2018
2017
2016
2015
2014
2013
2012
2011
2010
2009