Sun 13 Mar 2011 by Angela_McKay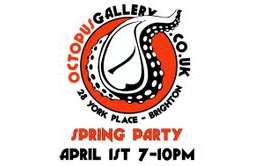 NOW March - April, Inkspot Press:

Brighton's finest print workshop is exhibiting throughout March and April with a diverse and vibrant selection of printmaking ranging from Fine Art to Graphic Illustration, including screen-printing, woodcut, collagraph and lino cuts. Thirteen Artists are in the exhibition and we are proud to have a mature mix of creativity incorporating photography, drawing and design.
NEXT April - Seri-O-Scope:

John Howard and David Wilson are joining the Inkspot show in April. The exhibition explores the concept of extending 2D into 3D imaging and the visual interpretation of music.
Octopus Gallery Spring Party – April 1st 7-10pm
To celebrate the two shows and the spring we will be hosting party at the gallery, with music, drinking and a big bon fire in the garden. The artists will be present to meet and we have special discounts on the evening. Everyone is welcome to attend and your more than welcome to bring your friends.
BRAG Collective at SXSW, Flatstock gig poster festival. Austin Texas March 16th-19th
BRAG Collective are attending Flatstock in Austin Texas, the worlds largest international gig poster exhibition that is held in conjunction with SXSW film, music and interactive festival.
http://www.octopusgallery.co.uk
http://www.rhyswootton.co.uk
http://www.bragcollective.com
+44 (0) 7812 929 048
skype: rhys-wootton
Share:
Blog archive
2019
2018
2017
2016
2015
2014
2013
2012
2011
2010
2009