Mon 18 Feb 2013 by Vicky_Woodgate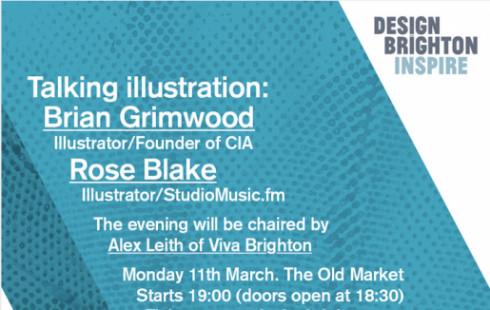 Special Deal !!!! ONLY £2 for BIG Members!!
This great illustration meeting run By Design Brighton at the Old Market
Following on from the sell-out success of the January talk, the 'inspire' evening returns in March with an event focusing on illustration.

Talking illustration and discussing their work will be Brian Grimwood, Illustrator/Founder of Central Illustration Agency and Rose Blake, Illustrator/StudioMusic.fm. The evening will be chaired by Alex Leith of Viva Brighton.
BIG Members have the opportunity to get a discount on the ticket price.
Just buy a ticket for £5 online and we will remburse you £3 on the night.
Tickets are selling fast buy here:
http://www.designbrighton.org/
Please make yourself know to us on the night or drop us an email before hand if you have bought a ticket
Share:
Blog archive
2019
2018
2017
2016
2015
2014
2013
2012
2011
2010
2009