Thu 27 Sep 2012 by Penny_Dann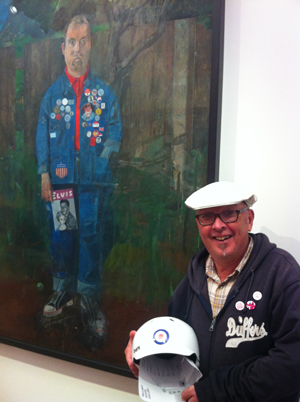 It was a stunningly beautiful autumn day for a trip to Chichester to see the Peter Blake show. A really relevant show for illustrators as he has completed so many famous commissions alongside his own artwork.
There's still time to catch it if you haven't been yet as it's on until 7th October.
On show were some of the last rare remnants from the Sgt. Pepper album cover shoot, sadly dismantled and disposed of the very next day. Peter had grabbed a couple of life size head shots as souvenirs.
Also, examples of his pieces created from what must be a vast collection of ephemera (I would love to see his house), prints, portraits and 3-D work.
Peter had taught Ian Dury at Walthamstow Art School. Their first meeting saw Dury painting in a bored and lifeless mood. Peter asked "What do you like?". Ian's reply mentioned amongst many things - rock and roll and tits. Peter said "So why don't you paint that then?" This proved to be the start of a long and close friendship.
An immaculate vintage juke box played in the background whilst a young school group avidly sketched, and took turns to talk about a Blake piece they had researched, all providing a great accompaniment to the work. One youngster had written in the guest book – "It really makes me want to paint things", and it sure did.
Here are Ian Dury's lyrics for "Peter the Painter"

Who's got the toughest brush with the sweetest strokes at the Royal Academy for Jack-the-lademy?
Mr. Blake is the actual bloke at the Royal College of Useful Knowledge
He plays his part without complaint at the Royal Society for Insobriety
Gets his pencils and his paint from the Royal Commission for Intuition

It's not a fake it's a Peter Blake
It's navy blue, it's crimson lake
It takes the cake and no mistake,
For goodness' sake take a look at those Blakes

Who's paintings brighten any day, who draws each breath from loving life?
Who's golden beard and black beret, who's sharper than a palette knife?

He treasures every mortal scrap at the Royal Borough of Extremely Thorough
Peter Blake is the actual chap at the Royal Enclosure of Cool Composure
And such nice beauties do impart from the Royal Exchange of Rare and Strange
The wonders of his noble art at the Royal Tournament of Glad You're Born-ament

It's not a cheat, it's one of Pete's
It's Daisy darling, Libby sweet
To ease you mind and soothe your aches,
For goodness' sake take a look at those Blakes

It's Peter the painter
It's Peter the painter
It's Peter the painter
It's Peter the painter
It's Peter the painter
It's Peter the painter
Peter is going to paint a picture - for you

It's Siriol the she-devil of naked madness, Wynken Blynken & Nod
Errol Flynn, Robert Melville, Elvis Presley and Cheetah the Monkey

It's Peter the painter
It's Peter the painter...


Share:
Blog archive
2019
2018
2017
2016
2015
2014
2013
2012
2011
2010
2009