Fri 06 Jan 2012 by Jo_Moore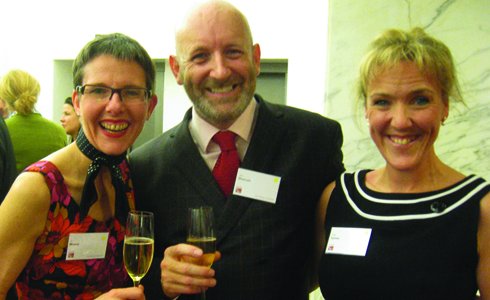 Amazingly, a book I had worked on jointly with top illustrator Nick Sharratt was nominated for the Royal Society Young People's Book Prize. Never heard of it - neither had we! The Prize, is awarded annually to a children's book that has promoted science to young people and our book; The Icky, Sticky Snot and Blood Book which deals with the respiratory system was on the shortlist. The book was created and art-directed by Sally Symes, written by Steve Alton and the amazing pop-ups were paper engineered by Corina Fletcher (who has previously spoken at a BiG meeting).
The Royal Society boffins waded through over 100 titles to compile a shortlist of six books which were sent to participating schools to vote on. We were invited to attend the award ceremony at the very prestigious Royal Society itself in Pall Mall and Nick, Sally and I represented the team. The ceremony was rather sweet and we were made a great fuss of. As the nominees were read out short videos made by the schools about each book were show to much amusement (one school's kids all had white coats and safety goggles on!). We were also hoping to spot one of the other shortlisted authors; Professor Robert Winston, but alas, we wasn't able to attend.
Sadly, we didn't win the top prize which went to How the World Works (or the ten grand prize money!) but we had a lovely evening before heading back to Sussex. I'm hoping that after 22 years of being an illustrator my late brush with a book award won't be a one-off!
See how the Icky, Sticky Snot and Blood Book works on Corina's website http://www.corinaandco.com/the-icky-sticky-snot-and-blood-book/
Share:

Blog archive
2019
2018
2017
2016
2015
2014
2013
2012
2011
2010
2009