Mon 06 Aug 2012 by Angela_McKay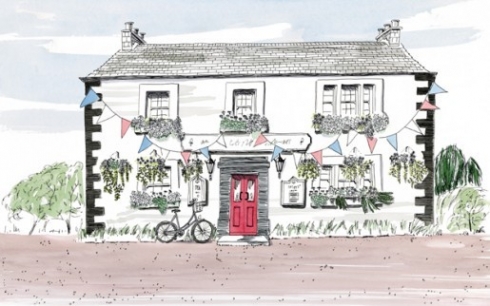 The window display is up until 24 August 2012. To find one of their 57 stores near you visit www.houseoffraser.co.uk
House of Fraser chose my work from the aoi portfolios. They were looking for clean black and white line drawings without people, of typically British scenarios, to print and place in their windows, which they would then prop to support with iconic 3D items, and dress the windows with relevant House of Fraser product, such as homewares, gifting or clothing.
House of Fraser supplied the reference material which was brilliant because the deadline became quite tight in order to draw all the little details which Dianne Stone, Head of Photography and her inspiring team were suggesting.
Initially I had about 4 weeks to supply the final artwork but we needed another week. I had never worked so large before, four by two and half metre backdrops. So it was a challenge for Hof, the printers and prop makers and myself to overcome the technical aspect and finish for the launch with all six images complete. It all came together.
It was very exciting for me to visit the store and view them. Visit www.houseoffraser.co.uk to find one of the UK 57 stores near you. The summer window display is up until - 24 August 2012. Or view here www.bytherealmckay.com
Share:
Blog archive
2019
2018
2017
2016
2015
2014
2013
2012
2011
2010
2009