Back to blog
Mon 28 Feb 2011 by Penny Dann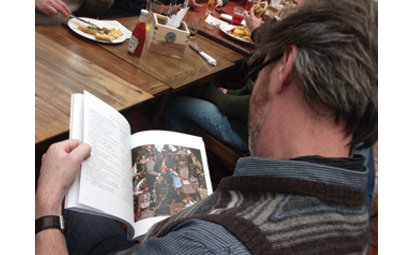 A B.i.G. coachload sett off for Dulwich Picture gallery on 15th February.
A fantastic show in a lovely setting, so we urge those of you that didn't make it on the day to go along and study the artist's stunning technical ability and humour and marvel at his long career. Check out the Flickr pics for a record of the day, mostly taken in the pub!
13 Nov: Norman 'Fatboy Slim' Cook opening his birthday present of a special edition Big Beach Cafe poster by me :-) pic.twitter.com/RuJ5TIYVHa
14 Nov: I've got a new, updated shop. Familiar items, some new and more to be added in due course: is.gd/YGXbDn.
21 Nov: Whoa. A lot can happen in a year! On the eve of the 1 year anniversary of Sprout's book club, have a look back at... fb.me/32nPdXb2c
21 Nov: BiG - who cares? Thursday 28th November 8pm. Upstairs at the King & Queen pub.